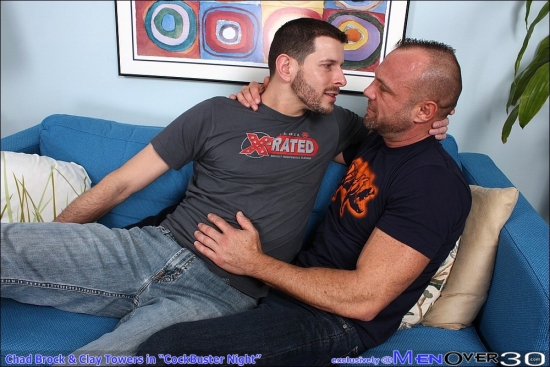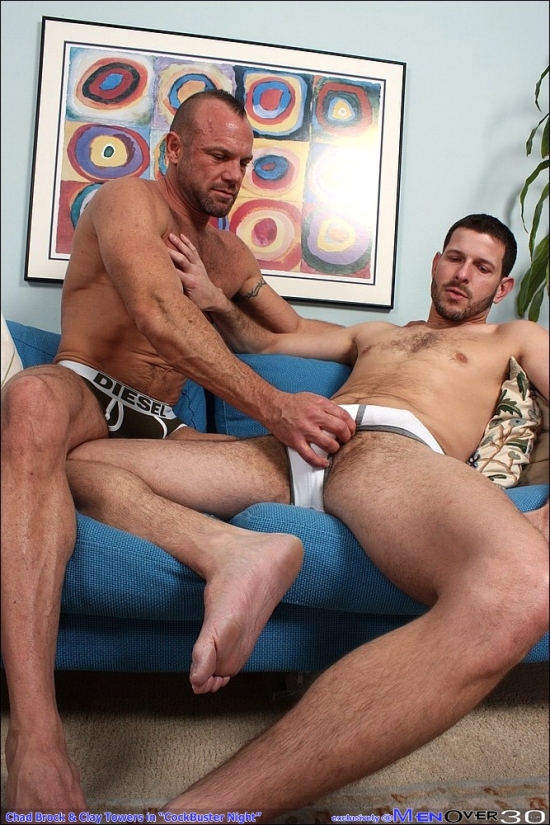 Clay Towers is 34 and Mo30 is almost as pleased to have this tall, sexy stud with us as his partner in crime, Chad Brock! He is even happier than we are. It seems these two met several weeks ago while working together on set. The chemistry was so exciting that Chad decided he needed to have more of this stud's time. He offered him a place to crash since he was heading out of town and all.
Well, Clay took him up on his offer—and never left. Well it looks like these two who are still giddy around each other have been living together for about 6 weeks and we wish them the best. This afternoon we'll get to see just what these two do behind closed doors. The only difference being that we'll have front row seats. They begin to kiss softly as they do what comes naturally to them. Chad pulls down Clay's briefs and goes to work on that thick cock.
Clay gasps as his beau begins to work on his bone. Clay then wants to return the favor and he gets on his knees in order to do things properly. Clay then takes his turn on the couch and lets Chad do the sucking for a while. Chad goes to work on his cock while Clay tells him just how good it feels and groans his approval. Chad must be doing something right since Clay has a permanent grin on that sexy face the whole time he's watching Chad go up and down on his thick dick. But wait—there's more….
Chad then bends Clay over and gets his tongue deep inside that hot ass he has dibs on. He eats Clay's ass while working his dick and balls as well. Once Chad's had his fill of that tasty ass of Clay's, Clay sits back and suits up and gives Chad a look that says it all as he puts his rubber on. Chad turns around as Clay lubes his ass and helps his man sit down on his throbbing bone. Chad impales himself on that thick dick til his ass is wrapped around Clay's meat.
Clay then switches it up after fucking Chad on all four and puts him on his back. He lifts Chad's legs up and slides his cock back in for more. There two won't last long at this rate and soon enough all that good dick makes Chad explode. Clay isn't far behind as he pulls out and unloads rope after rope of thick cum all over Chad's cum soaked frame.
Check out MenOver30 and watch these two hotties getting it on in the full length movie!