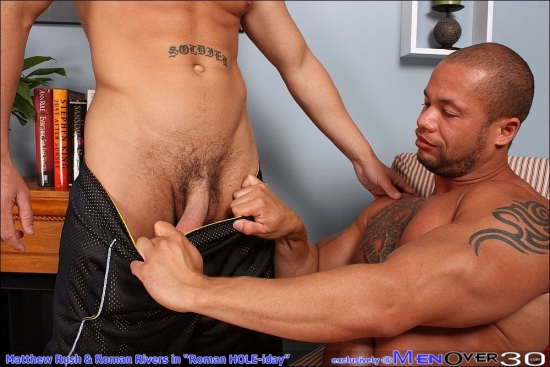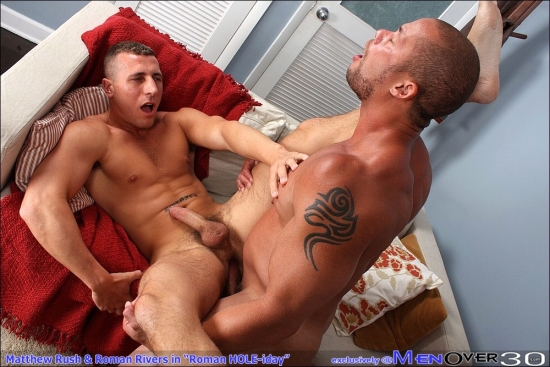 You never want to rush a good thing. We know all about that on MenOver30.com as we entertain Matthew Rush this week. This week Matt's gonna help us welcome a new face to the MenOver30 fold, sexy Roman Rivers. Getting acquainted is gonna get these two in trouble as Matt puts Roman's hand on his pec and encourages him to explore his curiosity.
Roman then sits down as Matt stands before him and hauls out his thick cock. He licks at that swollen knob before going down on it. He looks up at Matt with those bedroom brown eyes as he worships his meat. Matt then sits down and slides Roman's shorts off. Matt takes that hard cock in his mouth sending Roman into orbit as his throbbing cock finally gets the attention it's needed.
Roman soon finds himself on all four as Matt's tongue explores that sweet ass of his. He spreads those beefy cheeks apart as he tongue fucks that hole. Matt is soon groaning as that tight ass wraps around his rock hard cock. He bends Roman over and goes right to tappin' that ass. They then go missionary as Matt holds those soccer legs in the air before zeroing in on that ass he wants more of.
He shoves his cock back inside and picks up where he left off. At this pace it won't be long before these two cream. Roman's jerking his cock off as Matt fucks him harder. That does the trick as they dismount and jack off side by side sending their thick loads flying all over themselves.