Troy Halston and Brock Russell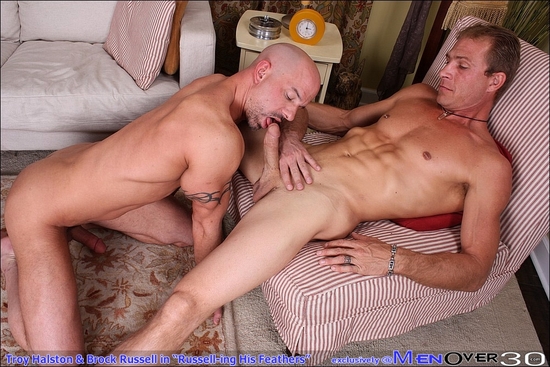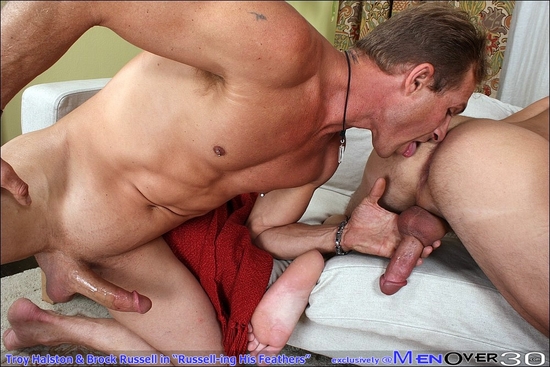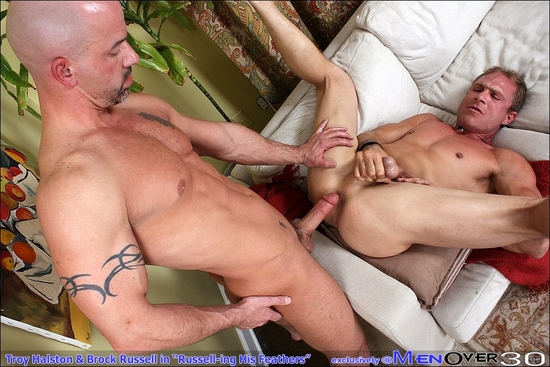 Today we have a hot duo on MenOver30.com as we welcome back Troy Halston and Brock Russell. They sit chatting about working in the business; how glad they both are that this will be a twink free set and about how hot each other look. That leads to stroking more than just a couple of egos as they start to make out. Troy takes off Brock's tee to get a better look at his playmate and he likes what he sees.
They strip each other's clothes off and Brock gets on his knees for a closer inspection of the tent in Troy's briefs. He wraps his lips around that cock and get to work. Troy is rock hard as Brock nurses on his meat. "Damn you suck good cock" he grunts as he fucks his mouth. Troy loves the attention he's getting but soon wants to taste Brock's thick cock. He kneels and gets a mouthful as Brock moans is approval. Troy can't get enough of Brock as he orders him to bend over so he can feast on that smooth ass.
He dives in tongue first as he gets that beefy ass ready for some fucking. "Fuck yeah" Brock grunts as he struggles to accommodate that hard cock. "Don't fuckin' hold back' Brock moans, 'pound my hole!" Troy is more than happy to oblige as he slams his dick in deeper. Brock switches it up as he flips the script and puts the porn vet on his back and gives him a taste of his own medicine. "Damn that's good cock" grunts Troy as he gets that hole stretched wide.
Troy then takes the lead back as he sits back and has Brock sit on his meat. Brock rides him harder and faster and it sends Troy over the edge. He stands and unloads all over Brock's smooth pecs and abs. Brock follows suit as he busts his own batch all over his cum-soaked abs. Damn, Daddies.
Tags: flipflop fuck, fucking, Men Over 30, one dollar membership, sucking